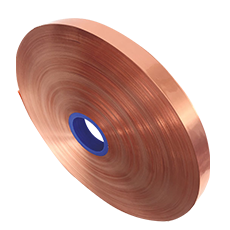 COPPER POLYESTER TAPES
One of our superstars is Copper Polyester Tape (CU/PET). This tape is used as shielding foil for cables which must be free of electromagnetic or electrostatic interference. The copper layer has excellent mechanical and shielding characteristics where as the polyester layer provides the electric insulation characteristics and makes the tape softer to wrap. The Copper Polyester Tape is used in low and medium voltage cables, control cables, coaxial cables, and many more… 
Technical Characteristics Table:
Structure
Thickness
(micron)
Weight
(g/m²)
Yield
(m²/kg)
Tensile Strength
(N/mm²)
Elongation
(%)
CU15/PET12
30
153
6.5
≥100
≥10
CU15/PET23
41
169
5.6
CU18/PET23
44
195
5.1
CU20/PET23
46
213
4.7
CU40/PET23
66
391
2.5
CU50/PET50
103
518
1.9
Values shown are for references only. For more accurate figures, please ask for technical data sheets
Winding Solution:
Type
ID
(mm)
OD
(mm)
Width
(mm)
Core
Pad
52(2"), 58(2.3"), 76(3"), 83(3.25"), 102(4"), 152(6")
Up to 500

≥5

Plastic, Paper
Spool
76(3")
200-300
Up to 35
Paper
Jumbo
76(3"), 152(6")
200-500
300, 350
Paper, Metal
 The OD depends on tape width and customer requirement. For other sizes please contact us.
Packaging and Marking: The product will be packed in paper carton with PE film bag and foam paper inside. It is then sealed and inserted in a wooden case or packed on a wooden pallet. After it is fixed, an external plastic coversheet is wrapped around it to avoid water penetration.
Storage: The product has a shelf life of 12 months from production date if stored in unopened original packages, under dry and clean conditions at temperatures between 10-30°C. The product will be damaged if stored in a moist area or contacted with water.